DFDL Thailand Sponsors Crystal Ball Business Luncheon in Bangkok
DFDL Thailand was proud to sponsor the Multi-Chamber Crystal Ball Economic Outlook and Business Luncheon 2019 held in Bangkok on 16 January. The event organized by the Canadian – Thai Chamber of Commerce brought together over 100 business individuals keen to gain insights on the key changes, trends and predictions for the business climate in 2019.
The event started with short presentations by the five panelists, comprised of Andrew Stotz (President – CFA Society Thailand), Audray Souche (Partner; Managing Director – DFDL Thailand), Virot Ali (Lecturer in International Politics – Thammasat University), Steven Ladd (Lead Customer Engagement and Commerce & Consulting – Ogilvy) and Dr. Soraphol Tulayasathien (Senior Executive Vice President – The Stock Exchange of Thailand).
The presentations were followed by a panel discussion led by Paul Gambles (Managing Director – MBPG Group) where the questions were supplied live from the audience via an online platform.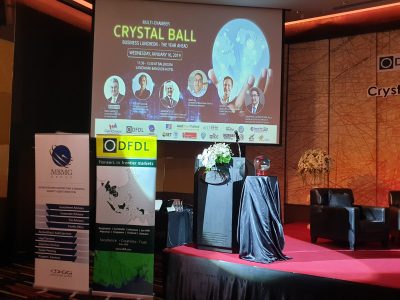 The enlightening discussions consisted of questions related to the local and global economic and political environment, the upcoming election and its likely impact on the economy and upcoming government projects, the Stock Exchange's plans to attract foreign investors, upcoming changes in the legal sphere, impacts of the regulatory guillotine projects and the US – China trade war.
The informative session was enjoyed by all and provided a great opportunity for informal business networking.
---
DFDL is pleased to sponsor and invite you to CanCham's upcoming event: Multi-Chamber Crystal Ball Economic Outlook And Business Luncheon 2019.
CanCham Thailand in collaboration with the American, Australian, British, Belgium-Luxembourg, Thai, French, JFCCT, Singaporean, Board of Trade of Thailand, The Netherlands, Norwegian, Hong Kong, and New Zealand-Thai Chamber of Commerce proudly presents "MULTI-CHAMBER CRYSTAL BALL ECONOMIC OUTLOOK AND BUSINESS LUNCHEON – THE YEAR AHEAD" on January 16, 2019 at Landmark Bangkok Hotel.
This CanCham flagship event promises to be a lively, interactive discussion during which business leaders will provide their perspective and outlook on the economic, financial, political, digital transformation landscape, work/labour landscape for the year ahead.  The key trends in various sectors of industry will be highlighted.
The event will provide ample opportunity for participants to share insights and ideas amongst peers in the business sector. The panel discussion will be followed by Q&A session.
We will be discussing the major trends and forecasts for 2018 in the following areas:
Global Economic – macro trends in China, EU, US, Japan etc.
Digital transformation and customer experience
Thai economy and financial markets
Thai political landscape and expected political outcome after election
Date: Wednesday, 16 January 2019
Time: 11:30AM – 2:30 PM
Venue: Ballroom, 7th Floor, Landmark Bangkok Hotel
Fees:
THB 1,600 for members of participating chambers
THB 1,900 for non-members
AGENDA
11:30 – Registration & Networking
12:00 – Lunch
12:20 – Opening remarks and panel discussion
13:20 – Q&A
13:30 – Closing
PANELISTS
Paul Gambles (Moderator), Managing Director, MBMG Group
Audray Souche, Partner & Managing Director, DFDL
Andrew Stotz, President of CFA Society Thailand and award winning equity analyst
Steven Ladd, Lead Customer Engagement and Commerce & Consulting, Ogilvy
Virot Ali, Lecturer in International Politics, Thammasat University