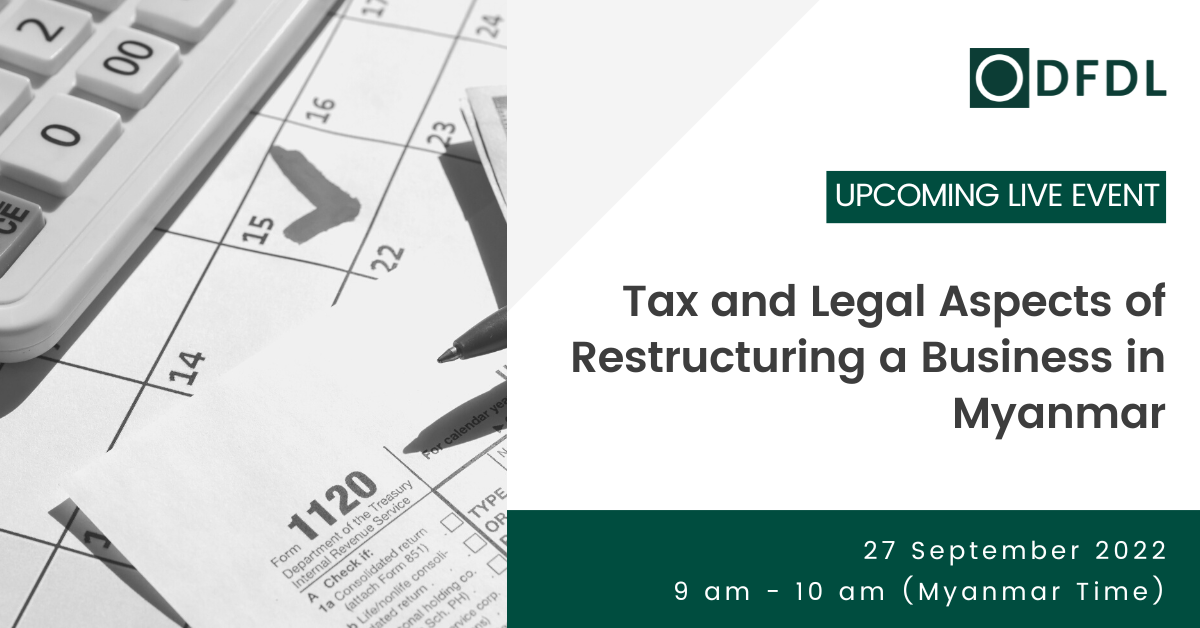 DFDL is pleased to invite you to a live webinar on corporate restructuring in Myanmar and the important legal and taxation issues a foreign investor should consider before restructuring or making exit plans.
This high-level workshop, Tax and Legal Aspects of Restructuring a Business in Myanmar, will be held online at 9 am (Myanmar time) on 27 September 2022. The format will include an insightful discussion between Nishant Choudhary (Partner, Myanmar Managing Director) and Diberjohn Balinas (Myanmar Tax Director), moderated by Jack Sheehan (Partner and Head of the Regional Tax Practice).
The webinar comes at a challenging time in Myanmar. Domestic and international trade, and inbound foreign investments have been hampered by social unrest, travel restrictions, and sanctions imposed on specific individuals and companies.
The global pandemic, combined with Myanmar's recent political crisis and banking downturn, has severely affected the economy, prompting many foreign investors to reconsider their operations in the country.
At DFDL Myanmar, we have advised and assisted companies restructure their businesses and operations in the country to adapt to the situation and mitigate their risks, given these challenges.
Agenda:
What are the common types of business restructuring in Myanmar
What are the common types of business restructuring in Myanmar
Myanmar taxes applicable on a restructuring of a business in Myanmar
Tax planning strategies for exiting or restructuring a business in Myanmar
How the deregistration and dissolution process work in practice in Myanmar