DFDL is pleased to announce new additions to its regional tax team with the recruitment of two top senior Cambodian advisers from Ernst and Young, effective as of 19 April 2012, Hak Viren and Py Borapyn. These strategic hires reaffirm DFDL's commitment to its leading, and ever-expanding, integrated tax and legal capabilities throughout Asia and beyond.
Hak Viren
Senior Tax Manager/Associate Director
viren.hak@dfdl.com
Viren is widely regarded in Cambodia as the "go to person" for tax compliance and tax audits. Formerly with Ernst & Young and PricewaterhouseCoopers, where she headed the Tax team, Viren has over nine years' experience advising international clients in Cambodia. With professional experience in the "big-four" in Cambodia, Viren brings with her exceptional market insight and special expertise in compliance and licensing services. She holds a BBA in Finance and Banking (National Institute of Management).
Py Borapyn
Senior Tax Manager
borapyn.py@dfdl.com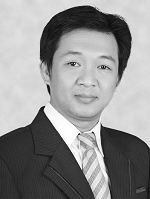 Borapyn is one of Cambodia's leading tax advisers and renowned in his field. An expert in Cambodian tax issues, Borapyn joins DFDL as a Senior Tax Manager in our Cambodia office and brings with him over 12 years of experience advising on all aspects of tax matters in both Cambodia and Thailand. Previously with Ernst & Young, he was a tax manager focusing on compliance, secretarial and general tax advisory services. Before Ernst & Young, Borapyn worked at PricewaterhouseCoopers in both Cambodia and Thailand. Borapyn has a Masters of Applied Finance from the University of Western Sydney, Australia and a Bachelor of Enterprise from the Royal University of Law and Economics, Cambodia.
These high profile hires in Cambodia reaffirm DFDL's commitment to providing to its clients the finest advisers across Asia with international-standard local expertise. Other recent strategic lateral hires of high caliber professionals in our Cambodia office include David Mah former Ernst and Young Manager, and ex BDO and Grant Thornton in Cambodia.