DFDL is pleased to announce that it has been awarded with the 2017 Cambodia Tax Firm of the Year title from the International Tax Review (ITR), an industry-leading tax publication. The 6th ITR Asia Tax Awards were held on 4 May 2017 at the Goodwood Park Hotel in Singapore. This two day Asia Tax Forum event which was bookended by the awards ceremony, attracted well in excess of 100 tax delegates from the "Big Four" Accounting Firms, leading law firms, and in-house counsels from across ASEAN.
Awards presented during the evening included the National Tax Firm of the Year for 18 different jurisdictions, recognizing firms that exhibited outstanding achievements in advising clients on local direct and indirect taxation matters, and on cross-border matters for the period 1 January 2016 to 31 December 2016.
DFDL was announced as the winner of the Cambodian Tax Firm of the Year, while also nominated as a finalist in three separate categories including; Cambodia Tax Disputes and Litigation Firm of the Year; Myanmar Tax Firm of the Year and International Tax Law Firm of the Year in Asia.
Representing DFDL, Bernard Cobarrubias, Regional Tax Director accepted the Cambodia Tax Firm of the Year award.
In acknowledgment of this remarkable accolade, Jack Sheehan, Partner and Head of the DFDL Regional Tax Practice expressed "We are very proud of our Cambodia tax team and heartily congratulate them on this award in recognition of their hard work and success throughout the year. We will continue striving to be the leading tax firm in ASEAN."
"It was encouraging to receive such an award in recognition for what was really a breakout year for the tax practice in Cambodia. Our goal is to keep building upon our success in 2016 and continue this into 2017 where we have many new goals and aspirations to aim for." observed Clint O'Connell, Senior Tax Director and Head of the Cambodia Tax Practice Group.
DFDL is exceptionally proud to receive this award and we will continue to build upon our reputation as the leading integrated tax and legal firm in the region.
To find out for more information about the awards, please visit the ITR Asia website.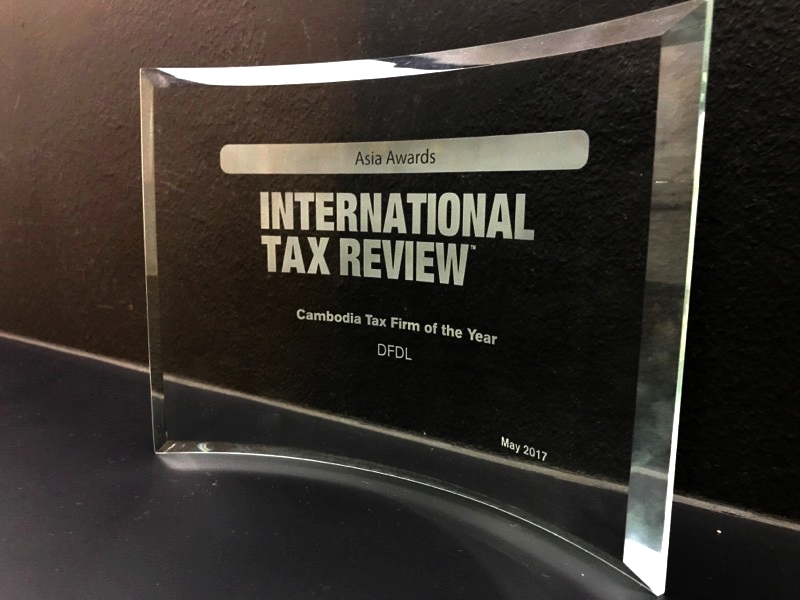 "Tax services required to be undertaken by a licensed tax agent in Cambodia are provided by Mekong Tax Services Co., Ltd, a member of DFDL and licensed as a Cambodian tax agent under license number – TA201701018".
Contacts
DFDL Marketing Communications Team