We are pleased to announce that Paul Volodarsky has joined us as Managing Director of our Samui and Phuket offices.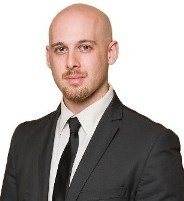 Paul brings a wealth of experience in real estate and the hospitality industry, having previously worked at Limcharoen Legal in Bangkok, managing the workflow for their offices in Phuket, Samui, Ho Chi Minh City and Bangkok. He advises individual buyers, developers, and investment groups on real estate investment throughout Thailand with specific emphasis on the resort and hospitality sector in Phuket and Samui. He has significant experience handling the legal complexities in setting up real estate developments, advising purchasers on acquisition of residential property in Thailand, and negotiating hotel management agreements with international hotel brands including Hilton Hotels and Resorts, Marriott International, Hyatt Hotels, and Hotel Okura.
Paul is admitted to the New York Bar. He holds a Juris Doctor degree from New York Law School (2009) and a Bachelor of Science, Major in Biological Anthropology from The George Washington University, Washington DC (2004). Paul will be based in Bangkok with frequent travel to Phuket and Samui.
View his full profile here.