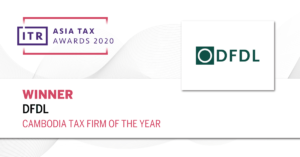 DFDL is proud to announce that we have won major national and regional recognitions at the prestigious ITR Asia Tax Awards 2020.
The firm was named 'Regional Tax Firm of the Year in Asia', where it was pitted against leading tax practices from across the Asia-Pacific region. The firm also was crowned as the 'Cambodia Tax Firm of the Year' and the 'Vietnam Tax Disputes and Litigation Firm of the Year', reflecting the firm's dominance in the countries on tax advisory and contentious work. These accolades are a fitting tribute to the hard work and dedication of all members of the DFDL tax team throughout the region.
DFDL's growing stature across international tax and litigation matters earned it the premier recognitions in the most competitive research cycle to date.
International Tax Review's Commercial Editor, Prin Shasiharan noted of DFDL: "In a stellar year, the firm's Cambodia office displayed exceptional strength-in-depth across its tax team and regularly took on a number of precedent-setting transactional and litigation work. The awards also recognize a superb year for the firm's Vietnam office, which took on a range of cross-border projects and difficult tax controversy mandates. By expanding its tax practice into Indonesia, DFDL looks set to continue the excellence that it already displays across the Mekong region. During the research period, clients have unanimously paid tribute to the expertise and creativity that are at the core of the firm's ethos. Particular congratulations go to Jack Sheehan and his team for firmly establishing themselves as the go-to tax firm across several countries."
The ITR Asia Tax Awards recognizes the remarkable achievements and developments by international tax professionals from the Asia-Pacific region over a 12-month period. In the most comprehensive research cycle to date, our team received more submissions from leading firms than previously recorded. Aside from the national awards in 18 jurisdictions, there have also been awards provided in regional, in-house and individual categories for the best performers. Please feel free to listen to the webinar on the page for more commentary.
To see the full list of shortlisted and winning firms, please visit ITR's website: https://www.internationaltaxreview.com/article/b1mxcg1g4hxtlj/asia-tax-awards-2020-the-winners.