Two years ago, the most visible and tangible impact of the entry into force of the General Data Protection Regulation ("GDPR" or "Regulation") for individuals all around the globe was an unprecedented wave of emails from businesses changing their privacy policies and seeking consent to store and process data.
Primarily aimed at protecting fundamental rights and freedoms of individuals with regard to their personal data, this regulatory framework is also geared towards allowing the free flow of personal data and the development of the digital economy across the European Union ("EU"). 
Download our latest article where our experts assess the achievements of the Regulation and draw useful lessons for other regional blocs moving towards similar data protection regimes such as in Southeast Asia.
Click here to download our analysis:
The information provided here is for information purposes only and is not intended to constitute legal advice. Legal advice should be obtained from qualified legal counsel for all specific situations.
---
Contacts
Partner, Thailand Managing Director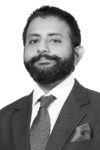 Regional Senior Legal Adviser, Deputy Head of Regional Banking and Finance Practice
Legal Adviser