DFDL's Vinay Ahuja and Company's Co-founder and Group CFO Discuss Eatigo's Success in Bringing Technology Used in Airline Ticket and Hotel Room Reservations to the Restaurant Table
Episode 4: Changing Dining Habits
In this video Sid discusses differences in dining habits, comparing the experiences of his native India where eating out is usually a social event to Thailand where it is a casual part of day-to-day life, and Singapore with its heavy reservation culture. He comments on Eatigo's experience upon entering the Malaysian market and having to adapt to radically different dining habits. He notes for example how the festival of Ramadan not only affects the Muslim community but the wider population as a whole, transforming dining into a universal activity in which all take part and dine together as a community.
Previous episodes
Episode 1: Bringing Online Reservation Technology to the Restaurant World
Episode 2: Cultural Set-Up Across Countries – One Size Does Not Necessarily Fit All
Episode 3: Responding to Varying Customer Behaviors on a Common Platform
Next episodes
Episode 5: Merchants in Different Countries and How They Adapt to New Technology
Episode 6: Cross-cultural Human Resource Management – The Key to Success
---
DFDL Contact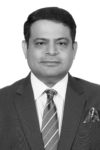 Partner; Head of DFDL India Desk;
Head of the Regional Banking and Finance Practice Group & Head of the Indonesia Practice Group
DFDL Thailand