On 3 December 2019, Kunal Sachdev (DFDL Regional Legal Advisor) participated in the 24th Infinity Ventures Summit in Bangkok at Centara Grand, Central World in Bangkok. Every year this summit gathers executives of domestic and foreign technology companies to discuss avant-garde market trends and management techniques.
In the afternoon session, Kunal served as panelist on the discussion: "Awakening the Green Giant: Navigating Asia's Cannabis and Hemp Regulations". Along with other experts, Kunal discussed the regulatory aspects of medicinal marijuana and hemp around Southeast Asia. This session was a great opportunity to discuss and learn about various aspects of forthcoming medicinal cannabis legislation, hemp cultivation, the opportunities for enterprises to enter this market and the legal framework in which they must operate.
On 4 December 2019 referencing this event, Fortune magazine featured an article "Why It's Still So Hard to Sell Medical Marijuana in Asia" where Kunal is quoted several times. Kunal observed that in Asia, a stigma persists around cannabis due to the Opium Wars and at this time, Asia's population did not understand the medical potential of this plant. Kunal explains that it has real advantages and can be used for effective treatment of chronic pain and serious diseases such as Parkinson's. He believes that Asian countries offer great market opportunities noting that "there's going to be a high demand for medicinal cannabis products" given the generally ageing profile of the population across the region.
The full article can be found here.
---
DFDL Contact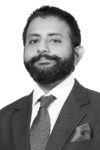 Regional Legal Adviser
---