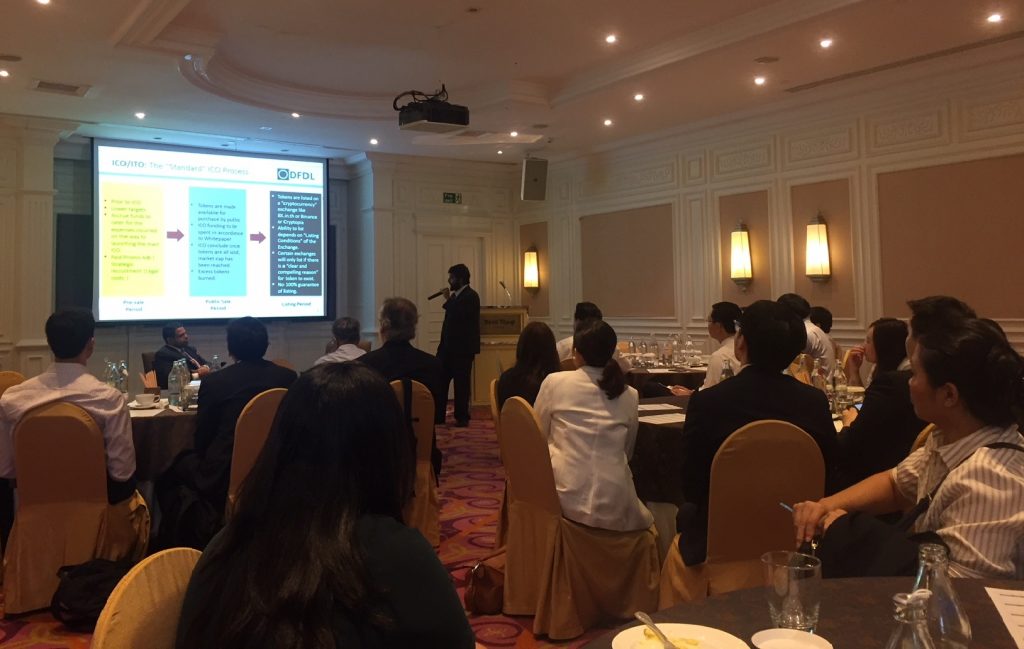 DFDL advisers Vinay Ahuja and Kunal Sachdev delivered an in-depth seminar on Initial Coin/Token Offerings (ICOs/ITOs) at the Dusit Thani Hotel in Bangkok on 30 January.  The breakfast seminar covered current ICO trends, legal and tax structuring options, and the key issues being considered by regulators. Executive Director of the Thai Fintech Association, Anon Aunsinmun, was guest speaker at the event, with DFDL Professional Development Director Antony Campbell moderating.
ICOs/ITOs are a crowdfunding mechanism that uses blockchain technology, with substantially less red tape involved than a formal Initial Public Offering (IPO) share offer through a stock exchange.  Startup enterprises seeking early-stage finance have been particularly attracted to ICOs to date, with interest now also emerging from more established companies. 
The event was particularly well attended, with representatives from a cross-section of sectors and stakeholder groups indicating the breadth of potential applications for the technology and its potential as a new source of finance.
---
Global activity around Blockchain-based technologies and ICOs (Initial Coin Offerings) / ITOs (Initial Token Offerings) rapidly increased throughout 2017. This trend will continue in 2018 largely thanks to increased interest in bitcoin and other cryptocurrencies, and increased level of investor confidence in the cryptocurrency sector.
An ICO/ITO is a crowdfunding mechanism used by blockchain-based businesses to obtain third party funding for their projects. To date, ICOs have raised more than US$3.7 billion globally, and the trend has spawned promising companies and technologies which may one day disrupt not only the tech giants but also the financial services sector. However, the rapid rise of ICOs as a crowdfunding mechanism has also prompted put the ICO process under the microscope.
This latest seminar in DFDL's Fintech series, our experts' covers:
Understanding ICOs: What are ICOs, what do they involve, and why is the ICO market currently booming?;
Stages of an ICO – Legal and Tax Requirements: The key legal and tax considerations for structuring ICOs and key documentation involved in conducting and implementing them; and
Broader Regulatory Trends on ICOs: Key regulatory issues currently under consideration by Thai and ASEAN regulators and the potential consequences upcoming regulation may have on (i) the launch of ICOs/ITOs; (ii) the attractiveness of ICOs for Thai and foreign investors; and (iii) investor protection mechanisms.
Agenda:
8.00 am – 8.30 am: Registration
8.30 am – 10.00 am: Seminar
10.00 am – 10.30 am: Q & A Session
Date: 30 January 2018, Tuesday
Time: 8:00am – 10:30am
Venue: Saladang Room, Dusit Thani Bangkok, 946 Rama IV Road, Bangkok 10500
For more information, please contact Shalini at Shalini.kalra@dfdl.com.
Speakers:
Vinay Ahuja
Deputy Head of Regional Banking, Finance & Technology Practice, DFDL
Kunal Sachdev
Regional Legal Adviser, DFDL
Anon Aunsinmun
Executive Director; Thai Fintech Association
Moderator:
Antony Campbell
Director of Professional Development and Cryptocurrency Educator, DFDL