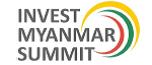 MYANMAR BUSINESS INVESTMENT SUMMIT 2013
Yangon, Myanmar: 21 – 22 March 2013
"INVESTING IN THE EMERGING MYANMAR"
William D. Greenlee Jr., DFDL Deputy Managing Director Myanmar, will be the speaker at this conference. The summit is a platform for potential investors to meet and discuss opportunities in this rapidly growing economy. William's presentation will focus on infrastructure and project financing in Myanmar.
The areas of coverage including:
Investment Policies
Investment Outlook & Opportunities
Taxation and Incentives              

Infrastructure Facilities
Human Resource
Land Law and Availability               
For more information on this program, please click here.
An updated agenda on day two of the Summit could be downloaded here.