DFDL partners Guillaume Massin and Clint O'Connell and guest speakers Tom O'Sullivan, realestate.com.kh and Kunthea Meas, Bred Bank shared recent trends and insights in condominium and borey project development in Cambodia with a very engaged audience at this well attended breakfast seminar.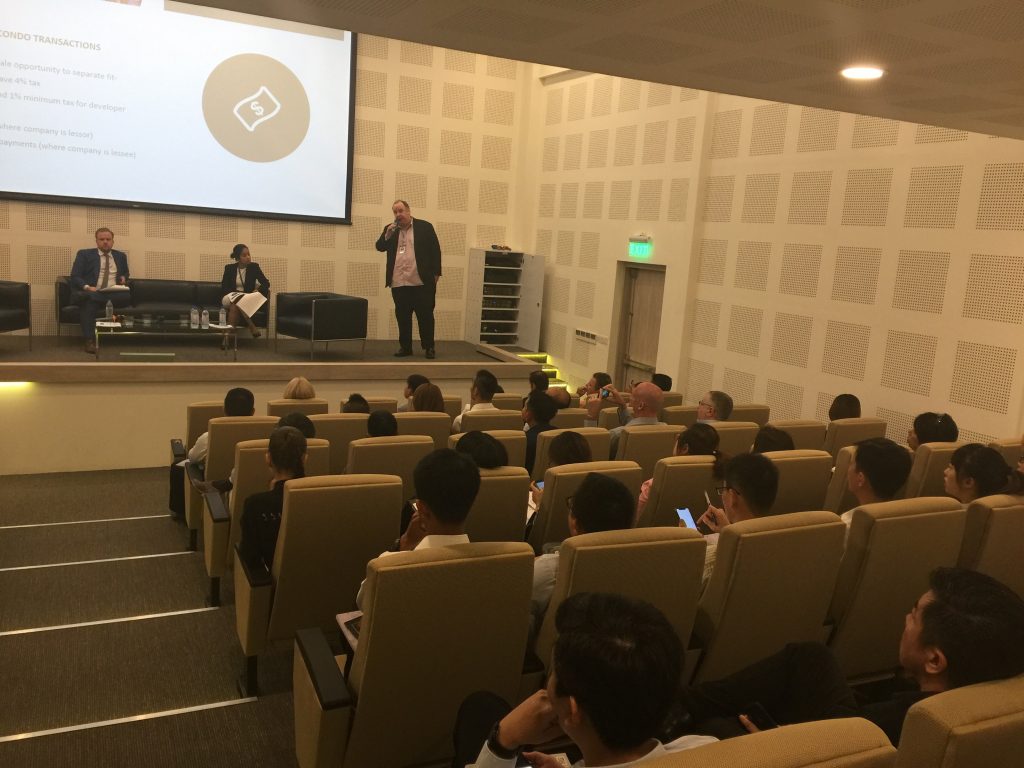 ---
The residential real estate market in Cambodia is booming and has attracted a large number of local as well as, more recently, foreign investors. At this Real Estate Breakfast Talk, you will hear about the latest developments and get practical advice on how to effectively invest in these residential projects.
We will give you an overview of the most recent trends and explain how to efficiently structure investments in condo and borey developments from a Cambodian and foreign investor perspective. We will share our own firsthand experiences of the practicalities of investing in these projects which are often not clearly covered by laws and regulations!
At this breakfast seminar, our senior panel speakers from BRED Bank, Realestate.com.kh and DFDL will explore the following:
Financing solutions and approval process for buyers: documents, property valuation, compliance;
Commercial partnerships between banks and developers; 
Risks and challenges of financing real estate projects;
Salient tax issues to be aware of – Transfer Pricing, VAT, Income recognition issues;
Tax efficient structures for real estate developers: repatriation issues;
Foreign ownership restrictions for Borey projects: how to structure transactions for foreign clients? Specificities of financing solutions for foreign ownership?
How to successfully implement co-ownership structures for condos?
How to better structure sales documents?
New licensing requirements for property management;
Titling procedures for Borey and Condo projects;
Top ten tips of what buyers should consider when purchasing a property.
This is a must-attend event for anyone who currently has an investment or is contemplating in investing in residential projects in Cambodia.
Agenda:
8.00 am – 8.30 am: Registration
8.30 am – 10.00 am: Seminar
10.00 am – 10.30 am: Q & A Session
Date: 26 April 2018
Time: 8.00 am – 10.30 am
Venue: Conference Room, BRED Bank Building, 5th Floor, № 30, Preah Norodom Boulevardm, Sangkat Phsar Thmey 3, Phnom Penh, Cambodia
Fees: USD15 per person
*Last date for registration is on 25 April 2018.
Payment Method: Cash on event date.
**For any cancellations, please inform us by way of e-mail before 6 pm on 25 April 2018.
Our senior panel speakers include:
CEO
Realestate.com.kh
Guillaume Massin
Partner, Managing Director,
DFDL Cambodia
Clint O'Connell
Partner, Tax Practice Group
DFDL Cambodia
Kunthea Meas
Head of Branch Network
BRED Bank
For more information and registration, please contact events.cambodia@dfdl.com.