When: 26 April 2016
Where: Hong Kong
---
Shahwar Nizam, Country Partner, Bangladesh,  will speak at the 4th Bangladesh Investment Summit on 26 April 2016 in Hong Kong.
The summit will examine the trade and investment opportunities for Asia's sovereign wealth funds, family offices, public and private pension funds and other financial investors in Bangladesh's markets. It will also address some of the most pertinent investment issues for corporations looking to invest on the continent and for those Bangladeshi companies looking to fundraise in Asia.
Please click here to view the agenda. 
Please click here for more information on this event.
To register for this event, please click here.
For further information or to secure group discount, contact:
Akina Tse
Delegate Account Manager
E: akina.tse@haymarket.asia
T: +852 3175 1980
DFDL Speaker: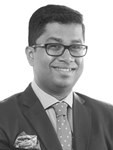 Shahwar Nizam
Country Partner, Bangladesh