On 1 April 2023, the Intellectual Property Rights Agency ("Agency") issued the Notification ("Notification") that sets out service fees for mark registration applications via Notification No. 1/2023 as per the Section 106 (d) of the Trademark Law with the approval from the Ministry of Commerce to implement the Trademark Law of 2019 ("Law") and the Mark Registration Rules of 2023.
Under Section 8 (j) of the Law, the Agency has stipulated, with the approval from the SAC Union Government, the following fees subject to the categories of services for mark registration application: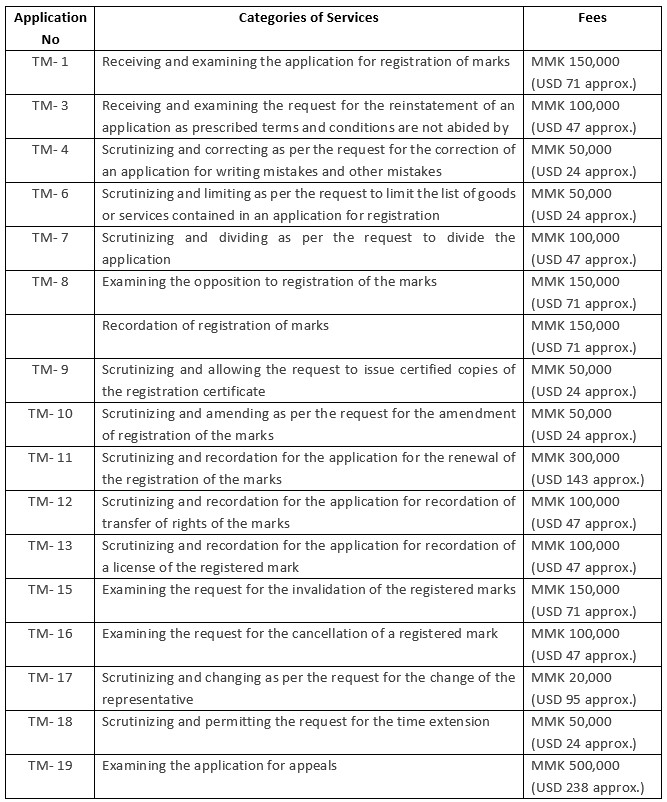 As per this Notification, the fees prescribed for the application for TM-1, TM-11, TM-19, and the recordation of registration of marks will only be for one class number of the good or service. The fees prescribed for the request for TM-12 and TM-3 will be for one mark only. The fees set out for the request for TM-3, TM-4, TM-6, TM-7, TM-8, TM-9, TM-10, TM-15, TM-16, TM-17, and TM-18 will be for one request/application only. The Notification further states that such fees will occasionally be reviewed and updated.
With comprehensive market knowledge and longstanding expertise, DFDL stands ready, prepared, and fully equipped to provide the above services regarding mark registration applications. We would be happy to discuss any of the above with you in further detail and offer our services to ensure a seamless process in Myanmar.
The information provided here is for information purposes only and is not intended to constitute legal advice. Legal advice should be obtained from qualified legal counsel for all specific situations.