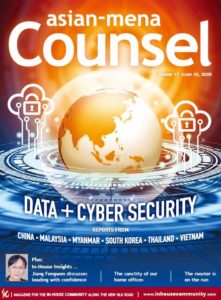 In November 2020, William Greenlee (Partner, Managing Director, Myanmar and Singapore) recently contributed two articles on Data & Cyber Security in Myanmar and in Malaysia for the In-House Community Asian-mena Counsel magazine November edition. Both articles focus on the data and cyber security regulatory framework and its recent developments in each country. William provides an insightful overview of the different laws in each jurisdictions while explaining in depth the important principles governing such categories of data, processing rules and cross-border transfers. William also offers some reflections on the significant shifts occurring in global data protection standards and what major changes can be expected in the future.
Bhawna Bakshi (Legal Adviser), Fiona Lim (Legal Adviser) and Arijeet Nandi (Junior Legal Adviser) assisted in the preparation and drafting of these two articles.
The In-House Community Asian-mena Counsel magazine of November contains data and cyber security articles covering China, South Korea, Thailand and Vietnam.
Click here to download the full article: https://www.inhousecommunity.com/article/asian-mena-counsel-magazine-nov-2020-e-edition-including-data-cyber-security/.