Myanmar continues to generate intense investor interest in what remains one of the world's largest frontier markets. Ever since 2011 when the country first opened its doors to foreign investment and participation, its economy has continued to surge with greater diversification of its markets and deepening sophistication of its consumer base. International investors continue to look toward Myanmar with palpable interest, given its geopolitically strategic position, abundance of natural resources, population of over 54 million (the majority of whom are under 30) and proximity to some of the most dynamic economies in the region.
To ensure greater prosperity and to step out of the shadow of its authoritarian past, Myanmar pursued market liberalization and has opened up a range of sectors to private businesses and foreign investment. The Government of Myanmar ("Government") is actively encouraging foreign investment, with many international companies having already established a presence in the country and many more eager to follow suit.
Myanmar has evolved into one of the fastest growing economies in the world with the highest gross domestic product ("GDP") growth rate in the entire ASEAN region. According to the Ministry of Planning, Finance and Industry ("MOPFI") the country's GDP is expected to expand by 6.7% in the fiscal year 2020. The level of Foreign Direct Investment ("FDI") is also expected to increase in 2020 owing to the liberal and business-friendly policies initiated by the Government.
In striving to transform Myanmar into one of the most desirable investment destinations in Southeast Asia, since 2011 the Government has been rolling out several pieces of investment-friendly legislation. In recent times, the Myanmar Investment Law 2016 ("MIL") followed by the Myanmar Companies Law 2017 ("MCL") have entirely revamped investment conditions in the country. The new laws aim to strengthen the national economy by creating a set of clear, transparent and consistent regulations with improved corporate governance and accountability.
The MIL combined with Notifications No. 15 and 17 2017 issued by the Myanmar Investment Commission ("MIC") have dramatically eased the scope of foreign investment across various business sectors. Pursuant to the MCL, foreign equity investment of up to 35% is now permissible in a local company. This further opens foreign investment opportunities in partnership with local entities. Foreigners are also allowed to conduct wholesale and retail activities in Myanmar either as a separate entity or through a joint venture with a local partner.
The Government has also liberalized investment opportunities in the banking and insurance sector. Foreign banks are now allowed to own up to 35% equity of in local banks and a third round of foreign bank licensing has been rolled out. The insurance market has opened to 100% foreign owned life-insurance companies as well as joint venture entities between local and foreign companies catering to both the life and non-life insurance sector. 
The real estate sector has also seen remarkable improvements in terms of relaxations on foreign investment. The MIL allows foreign entities or individuals to enter into long-term leases for immovable property upon obtaining a permit or endorsement from the MIC. Numerous foreign investment driven real estate developments, critical infrastructure and hotel projects are in development across the country. Ownership rights of real estate have been liberalized through the enactment of the Condominium Law 2016 whereby foreigners are now allowed to own (title) of up to 40% of the saleable area in property designated as condominiums (six-storeys or more).
Foreign participation in the mining sector has seen an improvement with mining licenses being granted to international players operating in joint ventures. The Government has proposed a National Electrification Plan which proposes 100% electrification of the entire country by 2030, a salutary initiative given that 50%-60% of the population remains unconnected to the national grid. Given this situation and understandable urgency, Myanmar will witness an exponential rise in power sector investment opportunities for at least the coming decade. The Government has also allowed up to 35% foreign equity holding in companies listed on the Yangon stock exchange.
The Government is in the process of revamping the antiquated laws protecting intellectual property with new laws governing trademarks, patents, industrial design and copyright having been enacted and expected to enter into force soon.
While the rising tide of foreign investment has lifted all business sectors in Myanmar, many associated risks and challenges with such investments remain. Understanding the ins and outs of opening and developing a business in Myanmar may be vexating, complicated and subject to unforeseen or inadequately notified changes. To mitigate and better understand these challenges DFDL Myanmar Limited has put together this comprehensive Investment Guide. The Guide focuses on the current business climate and the contemporary laws and regulations applicable to investing in Myanmar.
Investors will get to know about niche markets and promising areas investment while gaining practical and in-depth knowledge on the step-by-step process of setting up a local presence and doing business in Myanmar. This Investment Guide will serve as an essential reference tool for international investors seeking to do business in Myanmar, while carefully navigating the risks, challenges and pitfalls of its legal and commercial environment.
CLICK HERE TO DOWNLOAD THE 2020 EDITION OF OUR MYANMAR INVESTMENT GUIDE: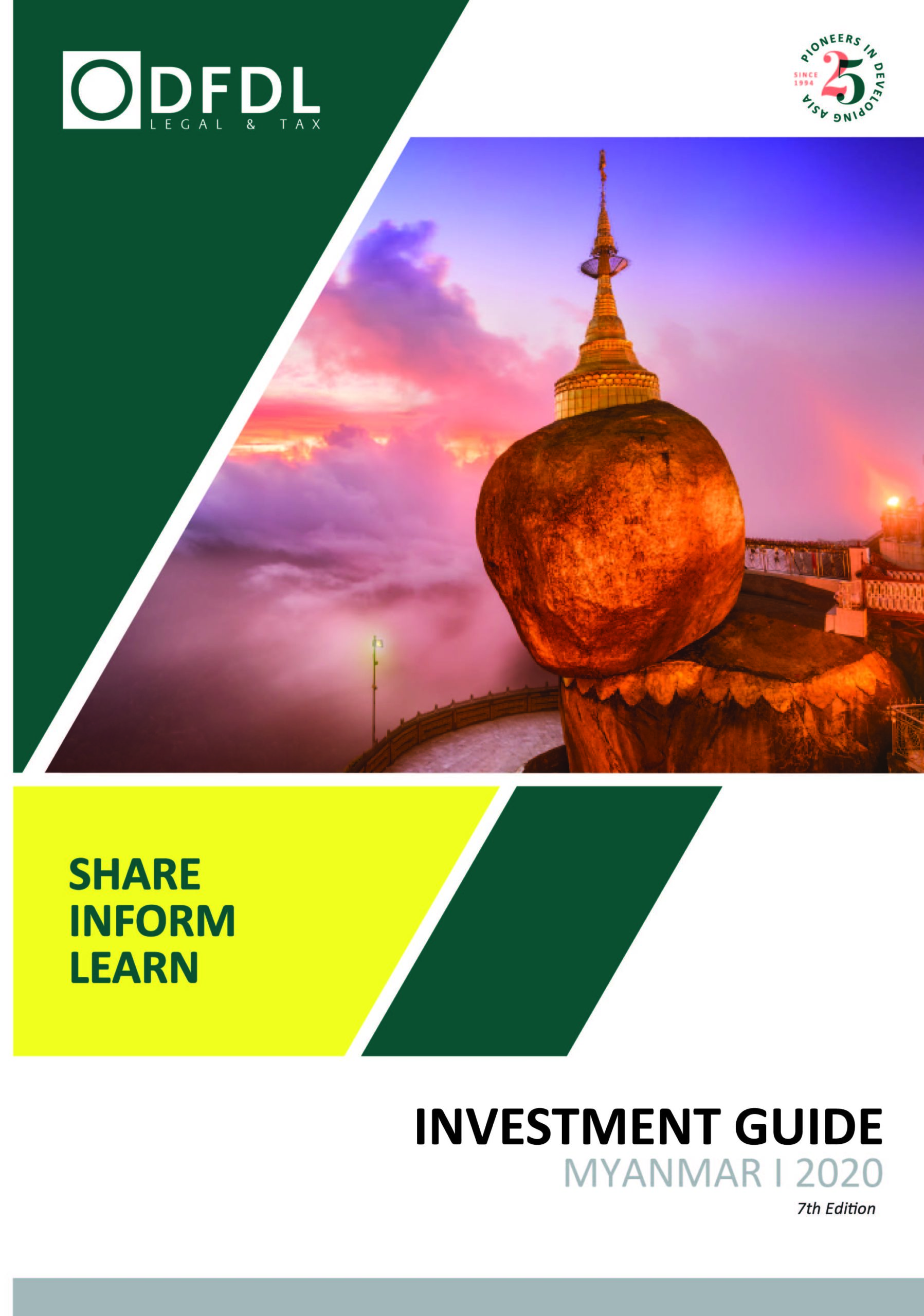 The article has been published on Asian Legal Business website and is available with this link: https://www.legalbusinessonline.com/news/myanmar-investment-guide-synopsis-brought-you-dfdl/79525.
The information provided here is for information purposes only, and is not intended to constitute legal advice. Legal advice should be obtained from qualified legal counsel for all specific situations.
---
Contacts

Partner & Managing Director, Myanmar/Singapore

Partner, Deputy Managing Director & Head of Banking and Finance Practice, Myanmar